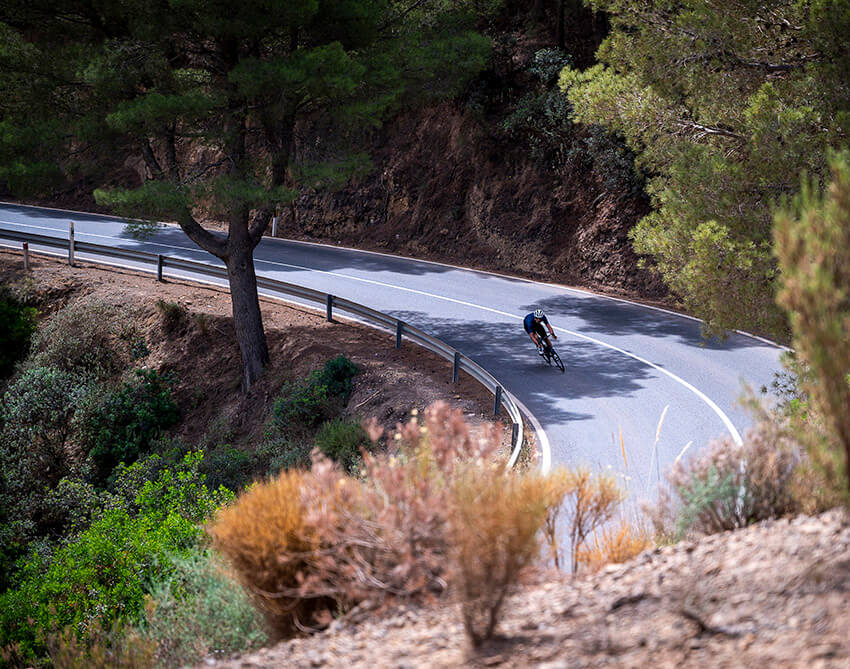 Your arrival / reception on Saturday evening
Around a drink and tapas, welcome aperitif-briefing on the terrace of the accommodation
Sunday
Ride 1 to discover the surroundings, 50 to 70km to acclimatize to the weather and the sometimes brutal slopes... while enjoying the landscapes combining sea and mountains. 700 to 1200m of vertical drop
Monday
Ride 2, longer, 70 to 100km a little further inland. 1300 to 2000m of vertical drop
Tuesday
Ride 3, long, 100 to 130km. more than 2000m of vertical drop
Wednesday
Day off… rest ; a free ride is still possible
Thursday
Ride 4, long, 100 to 130km. more than 2000m of vertical drop
Friday
Ride 5, easier, 50 to 70km to enjoy the Costa Tropical one last time by bike. 700 to 1200m of vertical drop
Saturday
Departure from accommodation – Airport transfer
This is a typical schedule; it may be adjusted according to unforeseen weather, medical hazards, the level or the wishes of the participants.
The routes are accessible to all levels provided you are a regular practitioner.
Via the Whatsapp discussion group you will have the program and important information every day. This group will also allow everyone's photos and videos to be shared.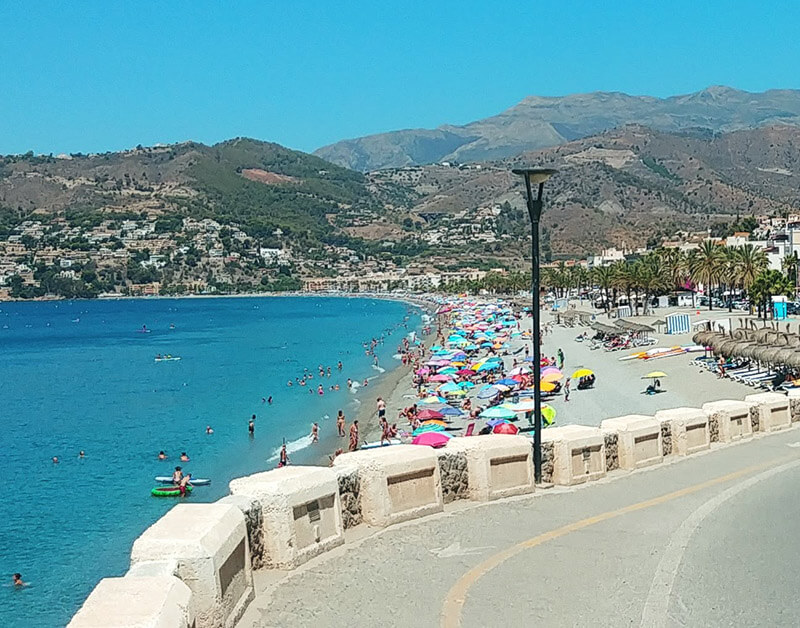 The routes will survey both the seaside and the surrounding mountains. From the foothills of the Sierra Nevada through the Contraviesa and the various local Sierras, you will not miss any elevation to face.
The nearest pass to Almuñécar, the longest too, is the Puerto de la Cabra (borrowed regularly during the Tour of Spain) which will take you over 25km at 5.5% average gradient including some flat sections and some stronger. Come and challenge yourself with friends on this pass…and the others too.
In Spain, the slopes are sometimes brutal (sections of more than 15% gradient) over a few tens or hundreds of meters; it may happen in some cases that some people put one foot on the ground ; it doesn't matter, each trainee will ride at the pace he wants.
That said, it's a real pleasure to drive on roads where car traffic is mostly light or even non-existent in places. The vast majority of motorists are very respectful of cyclists and wait to overtake; it is often confusing. Spanish Traffic Safety does a remarkable job of raising awareness about respecting and sharing the road between users. Let's participate in this good cohabitation.
The weather is particularly pleasant all year round. Minimum temperatures in winter are around 8-10°C in the morning and 15°C in the afternoon. In spring, they correspond to summer temperatures in France: 20°C in the morning and 28°C in the afternoon. In summer, it is hot in the morning, around 27°C, but the particularity of the Costa Tropical is its low thermal amplitude; thus the thermometer rarely rises above 35°C with constantly circulating air bringing real well-being.
The real difference in climate is mainly due to a high level of air humidity in summer, which means that the feeling of heat is more pronounced than the temperature displayed on the thermometer. Hence the interest of the 1stSunday ride to get acclimatized.
The roads are mostly in good to very good condition and it may occasionally happen to take passages in less good condition or even gravel sections.
Punctures are rare but tires that are too light are to be avoided despite everything.
A typical mountain road bike will be perfectly at ease here, carbon wheels too. A section of 25mm will bring you sufficient comfort. 28 to 30mm if you want even more comfort and grip.
On the transmission side, opt for a compact (50/34) or mid-compact (52/36) crankset and don't hesitate to fit a 30 to 32-teeth cassette.
2 bottle cages are the minimum to take with you something to hydrate yourself with serenity.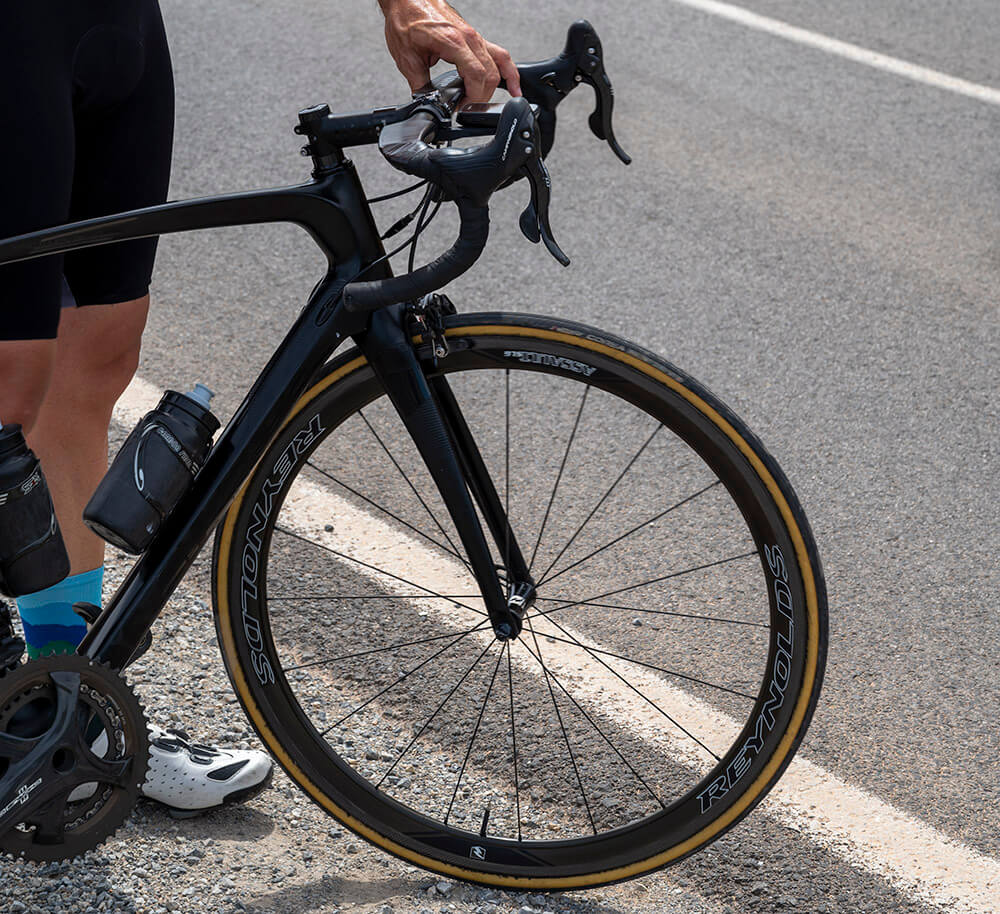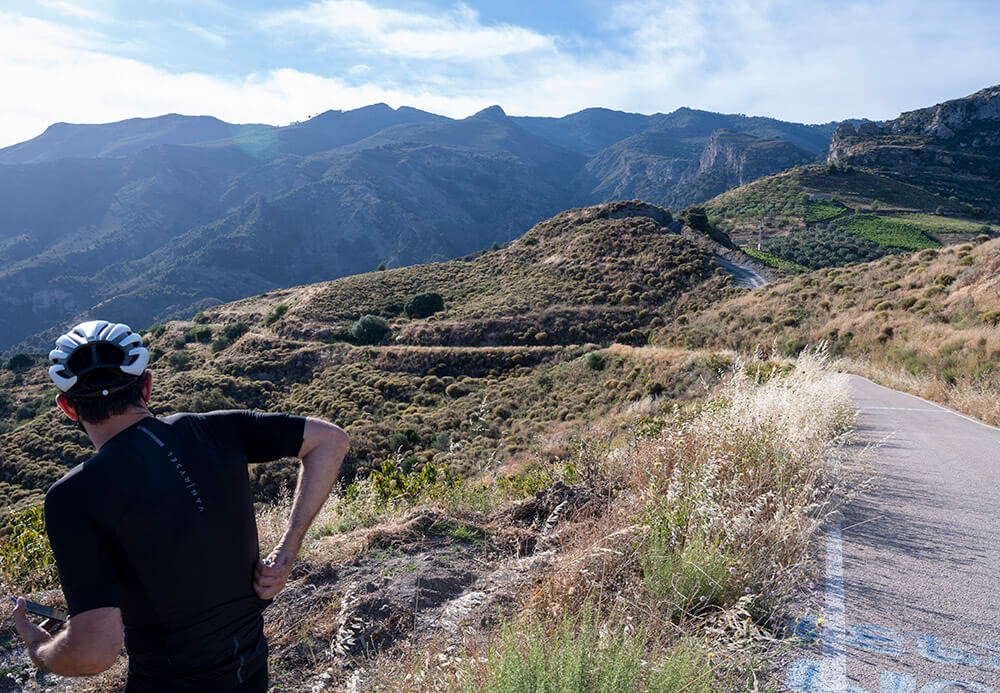 In summer, lightweight/breathable cycling shorts and jerseys will be the norm. Gloves or mittens will be a real plus to manage ambient humidity and sweating on the handlebar
In spring and autumn, substantially the same equipment with the possibility of an underlayer, a long-sleeved jersey, a sleeveless windbreaker or a buff according to your tastes and habits
In winter, a priori no need for overshoes. A good pair of warm shorts will suffice in most cases. An underlayer and a long-sleeved jersey will suffice. Windbreaker, buff and gloves will be a + if desired. Some days, it will even be possible to ride in a short-sleeved jersey.
In any case, do not hesitate to ask us for advice the week before your arrival to best adjust your set of outfits.
A washing machine will be available with the necessary for washing technical clothing.
Support, advice and safety/repair kit
Matthieu will accompany you on rides ; he will be your guide on routes specially adapted to the places, the climate, the level and the wishes of the participants. He will advise you on the difficulties of the day, how to approach them if you are not familiar with the mountains. He will be able to indicate to the best the end of a pass so that they can climb it at the pace they wish. Conversely, it will accompany those most in difficulty so that everyone can face the daily obstacles without stress or loneliness.
Matthieu will show you the free (drinking fountains) and paid (bars, supermarkets) supply points.
You will never be lost with him. He speaks French, English and Spanish and knows the local habits and customs.
When you arrive, you will be given a safety/repair kit : it consists of a flashing rear light, a multi-tool, an inner tube and a mini-pump. The idea is really that you only travel with what is strictly necessary and that we lend you this kind of equipment. During the outings, there is no need for each participant to bring everything in duplicate. We will decide together who takes a pump and a backup multi-tool. Matthieu will always have a kit on him, anyway. Only the rear light will be mandatory on each bike to maximize safety.
The complete kit will be returned at the end of the stay.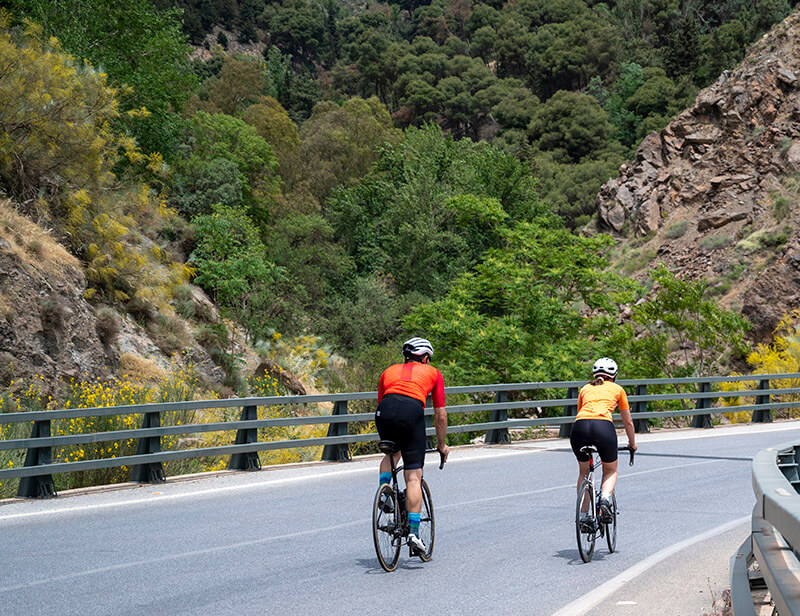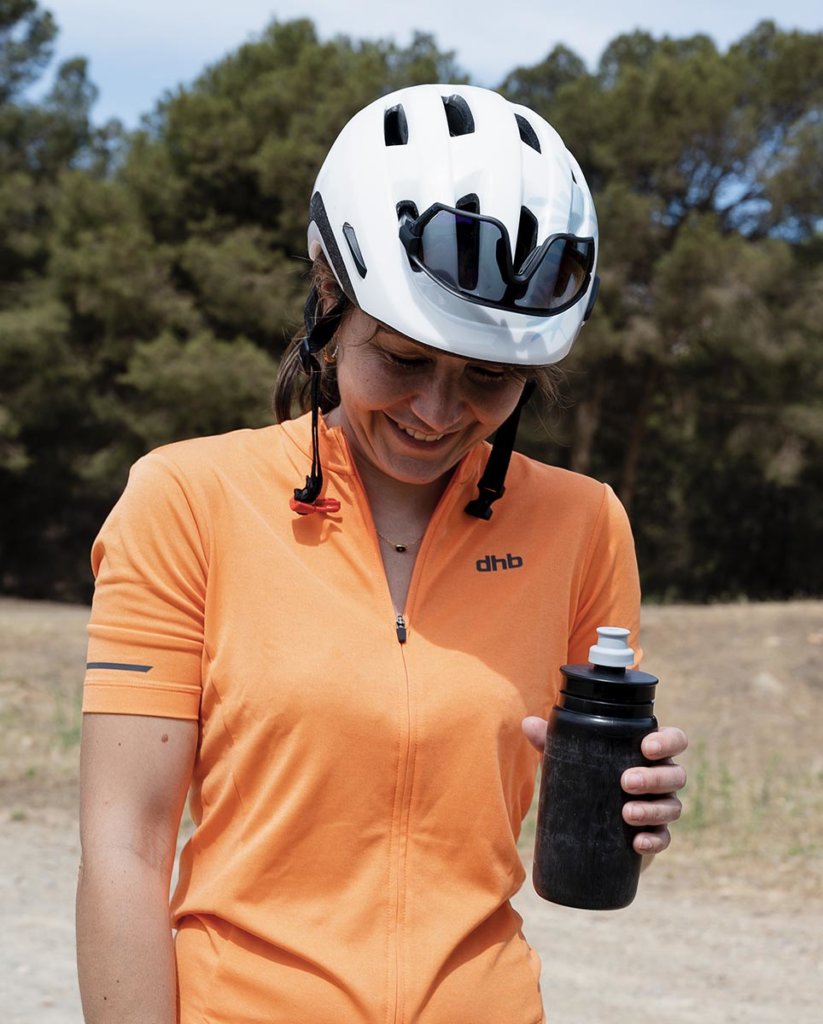 On your arrival you will find on your bed a kit of goodies that we want to be "responsible".
A Vuelta a Costa Tropical jersey, Ulevel brand (equipped with the Caja Rural pro team). Jersey made in Spain (in Albacete, 300km from Almuñécar) of high quality, very technical with a pro-fit cut

2 Tacx Shiva O2 bottles – Vuelta a Costa Tropical, 550ml, 100% biobased, 100% biodegradable, 0% petroleum, made in Europe

5 Powerbar True Organic energy bars. Organic, vegan, climate-neutral and with plastic-free packaging, compostable

1 carwash token (carwash in the city center) to remove dust from your bike, if necessary, before your return
These goodies will save you from bringing a jersey, bars and water bottles in your luggage. However, if you have specific bottles (insulated in particular, in summer, do not hesitate to bring them with you)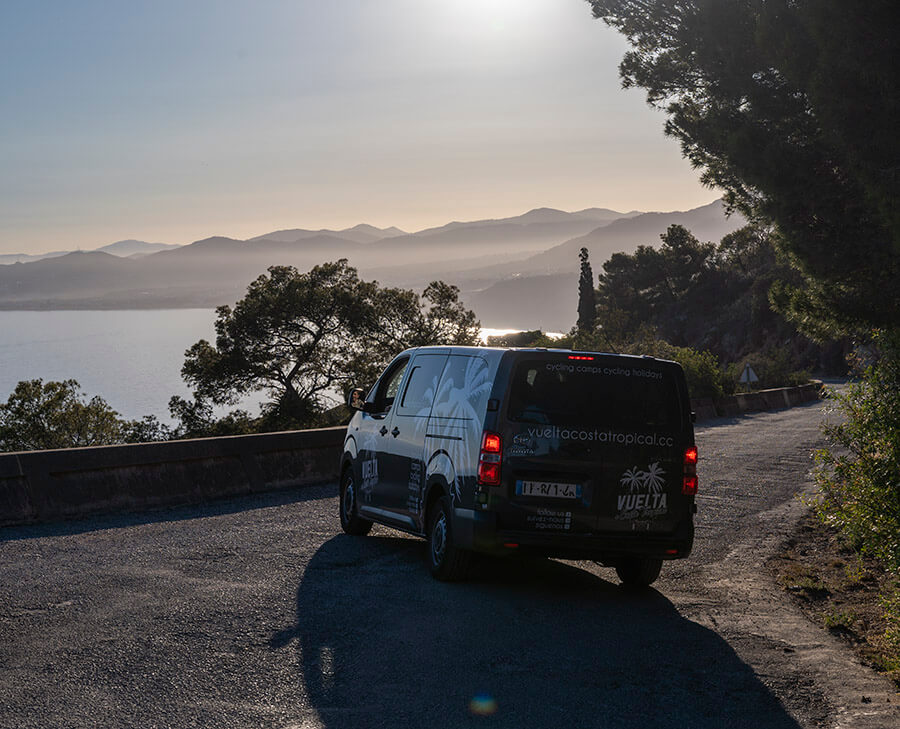 Technical assistance, First aid
Matthieu will provide technical assistance during the rides(within the limits of his skills and technical possibilities at this time).
Apart from rides, we can help you repair the "pains" of your bike and fine-tune the settings if necessary. If necessary, we will direct you to the nearest bicycle shop ; the town of Almuñécar has no shortage of them. In any case, we will look for the most suitable solution so that you have the best possible cycling holiday.
Matthieu will also provide first aid assistance during rides. Treat the minor pains, assess the severity and/or suggest medical assistance / evacuation / repatriation.
If you look at Strava you will see many well-known names in the KOMs of the surrounding passes. It's quite normal, many World Tour teams have training camps in Sierra Nevada and professional cyclists are regulars on these roads in the province of Granada. Romain Bardet, Julian Alaphilippe, David de la Cruz, Juan Pedro Lopez… the AG2R, Quick-Step, Arkéa, Trek teams, etc… All have ridden or ride regularly on these roads.
In recent years, Almuñécar has even become the headquarters of some teams for their training camp at the start of the season. Thus, this year, the Burgos-BH team has once again put down its suitcases in Almuñécar for its training camp at the start of the season.
Among the women, the Bizkaia-Durango team did the same.
But the best-known cyclist in Almuñécar is undoubtedly the native of the city, Carlos Rodriguez Cano. The young prodigy of the Ineos team, who made a thunderous start to the 2022 season, is a pure local product. Trained at the BMX club of Almuñécar, he wears the colors of the Costa Tropical and Andalusia at the highest cycling level.
So, when are you coming?
Responsibility of participants
Participation in the cycling holiday implies full adherence to the following rules:
The trainee is solely responsible for his bike as a vehicle, his behavior on the roads and paths taken. He undertakes to strictly respect the highway code and the Spanish laws in force.

The trainee is solely responsible for the circuits he takes and ensures that he takes them of his own free will ; he declares to be in good health and to be the sole judge of his aptitudes and physical abilities.

The trainee is solely responsible for his bike, its perfect working order for road use, its maintenance and its protection (including against theft), from his arrival in the Vuelta a Costa Tropical accommodation until his departure.

The rigid shell helmet, approved, is compulsory during the outings.

The trainee is solely responsible for his food and drinks for and throughout the duration of the cycling outings.

The trainee recognizes and understands that participating in the cycling trip is an activity that can be dangerous. He fully assumes the risk of being injured and/or injuring a third party during cycling outings. He fully assumes all associated risks and waives all claims against Vuelta a Costa Tropical, its operators, and successors and/or assigns in the event of bodily injury, property loss or damage, including any claims for negligence. , civil liability and/or strict liability.

In addition, he undertakes to compensate the operators and owners of Vuelta a Costa Tropical and to release them from all liability in the event of any claims, including any damages or claims from third parties resulting from his stay.

It is the trainee's responsibility to take out the appropriate insurance(s) (travel, health, cycling, etc.) for their stay at Vuelta a Costa Tropical.

The trainee undertakes to comply with all the health laws in force in Spain, throughout the duration of the stay.

Each participant authorizes Vuelta a Costa Tropical, as well as rights holders such as partners and media to use the photos and videos taken during their participation in the stay and rides.

Vuelta a Costa Tropical reserves the right to exclude or deny access to accommodation and rides to any participant/trainee who violates these regulations or who behaves or acts inappropriately. This exclusion will not give rise to any refund, partial or total.

Vuelta a Costa Tropical reserves the right to cancel any stay, at any time, for any reason, up to 30 days before the start of said stay. This cancellation will entitle the participant/trainee to a full refund.

Vuelta a Costa Tropical cannot be held responsible for any event beyond its control such as, for example, accidents (bike rides, airport transfers, excursions), weather events, illnesses, injuries, death of persons, losses, damage or theft of property, delays or cancellations of flights, trains or other transport, disputes with participants/trainees, other road users, neighborhood of the accommodation.