ABOUT
Accomodations :
Cyclist House or Hotel Helios
CHOOSE THE ACCOMMODATION THAT SUITS YOU!
– Our Andalusian house : In the heart of the old town, 100m from all the shops and 300m from the beaches, you will have the entire accommodation just for you : a typical andalusian house with its refreshing patio and its rooftop terrace with its breathtaking views over the mountains and the sea.
On 3 levels (ground floor + 2 floors) you will have all the comfort and shops nearby to make the most of your stay. 3 bedrooms, 6 guests.
– Hotel Helios Costa Tropical: 3-star hotel located on the seafront, with swimming pool and spa. Cycling-friendly with its secure bike room, its tools available, its bike wash, the Helios Hotel will be ideal for a luxurious stay with full board. We have a partnership that allows us to benefit from unbeatable prices.
Bespoke stays, ask for a quote.
PRIVATE ANDALUSIAN HOUSE :
OUR CYCLIST HOUSE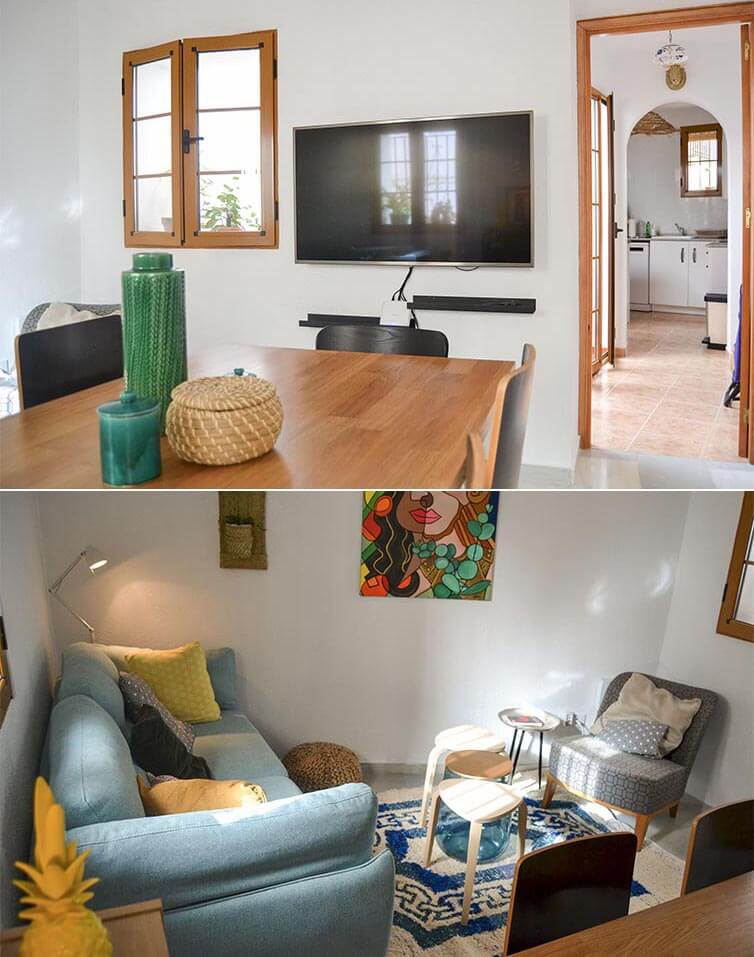 On the ground floor, you will find an entrance opening onto the living room, a patio where you can safely drop your bikes, a first bathroom (with shower) – WC and the bright all new kitchen.
On the first floor, a second bathroom (bath/shower) and two double bedrooms (2 beds 90 x 200cm that can be twinned).
On the second floor, a double bedroom (2 beds 90 x 200cm) and access to the 33m² rooftop terrace. View of the mountains, the city and even the sea… the terrace will be the ideal place for sunbathing, plancha meals… and refreshing showers on hot days.
The accommodation is equipped with fiber internet, although 4G/5G is available everywhere in the accommodation. A 4K Smart-TV with digital TV decoder : access to Netflix, Prime Video, Eurosport GCN (Android TV), etc.
Bed, bath and beach linen will be provided as well as soap and shampoo. A washing machine will be available with the necessary for washing technical clothing.
A "sports" closet with a beach volley ball, beach tennis rackets, beach towels, 1 umbrella and yoga mats. Padel option: court rental + 4 padel rackets (and balls), contact us.
A kit to maintain/check your bike: workshop stand, tools, workshop pump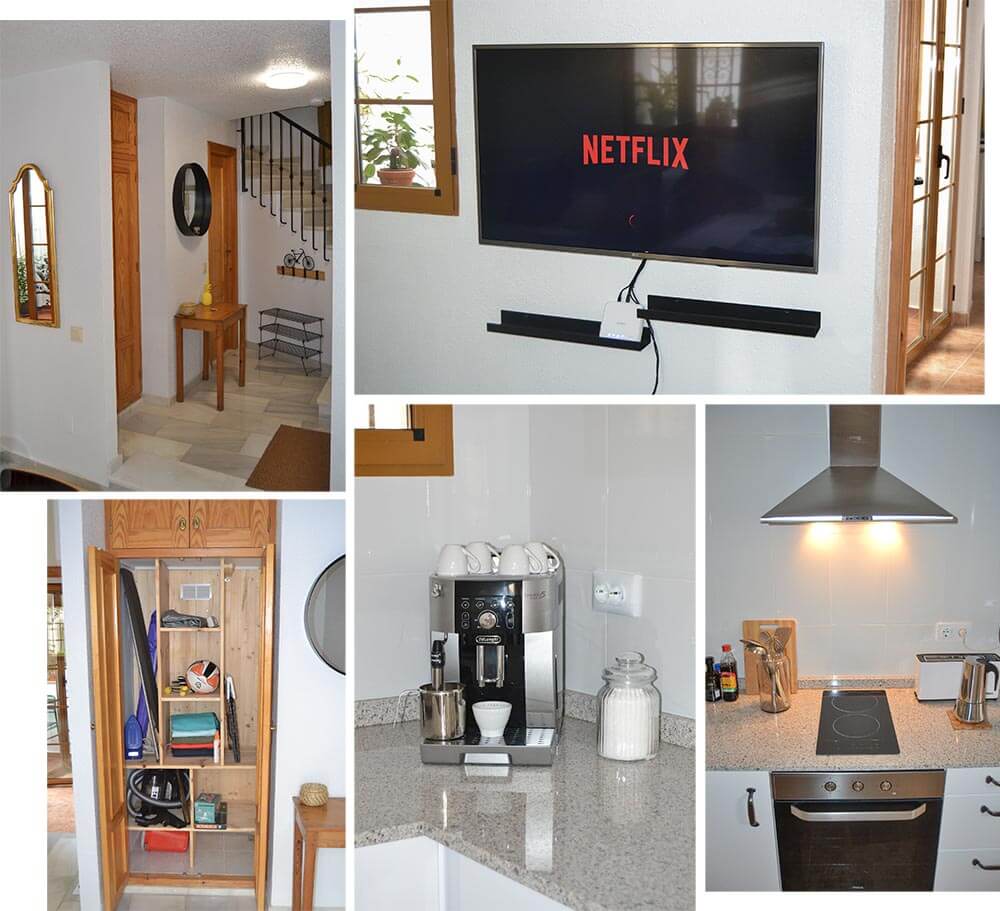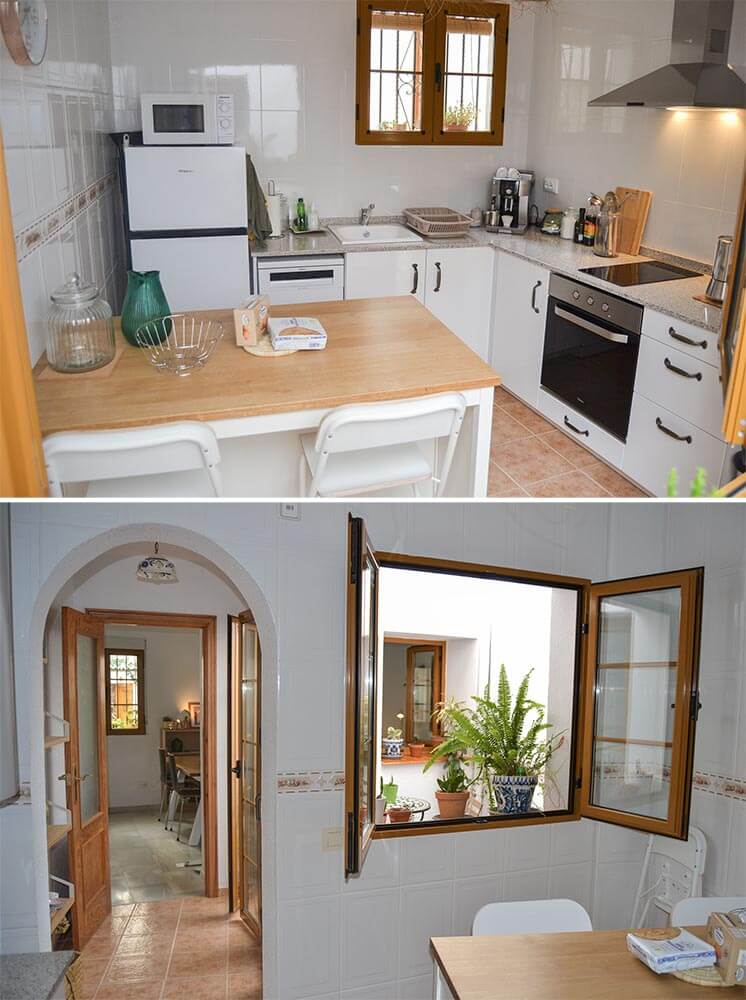 A modern fitted kitchen : ceramic hob, multifunction oven, dishwasher
An automatic espresso machine, with locally roasted coffee beans, will be at your disposal.
Three double bedrooms with 90 x 200cm beds. Great length and quality spring mattress. Enough to get you back on your feet for the next day's ride.
In two of them, possibility of combining King Size beds (180 x 200cm) for couples (with hooking of bed bases and zipper on mattress).
In two of them also, 1 large built-in wardrobe with hanging space and shelves. Each bed will have a bedside table or tablet, an electrical outlet.
Each bedroom will have a key lock.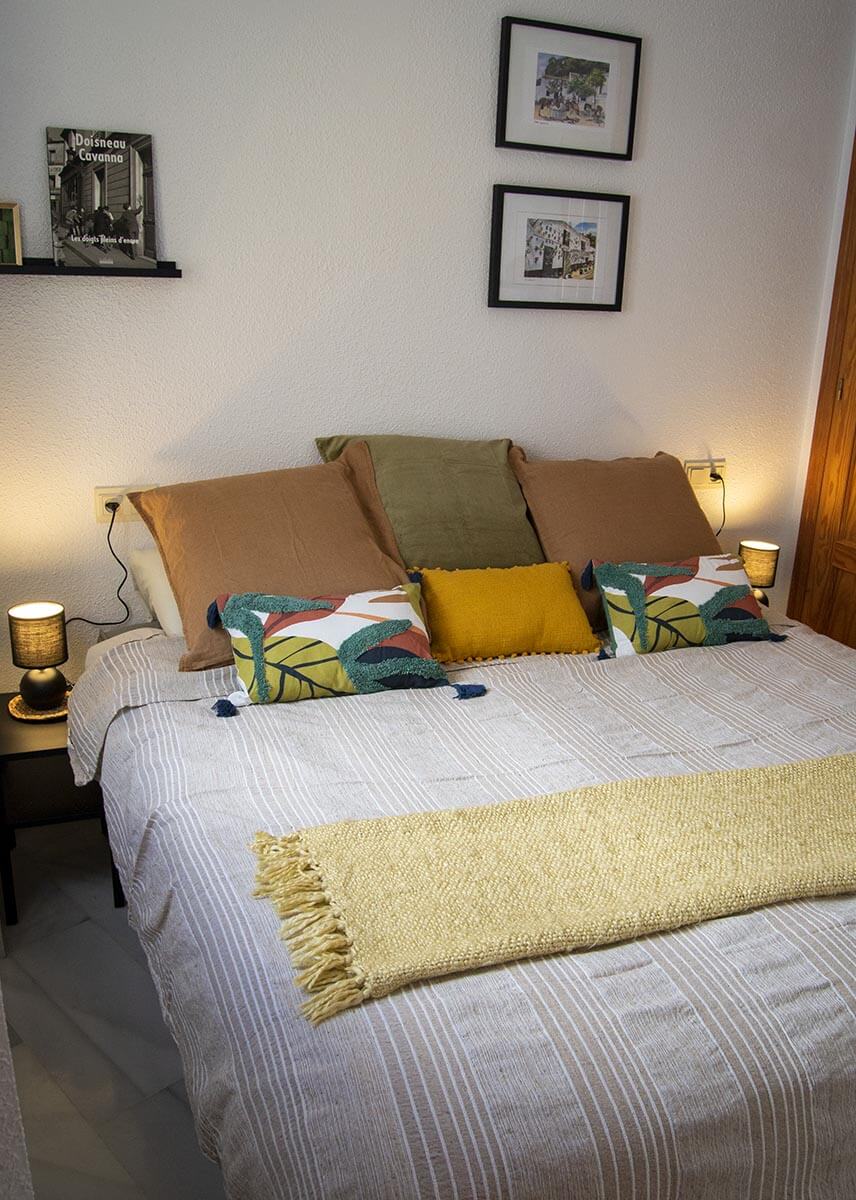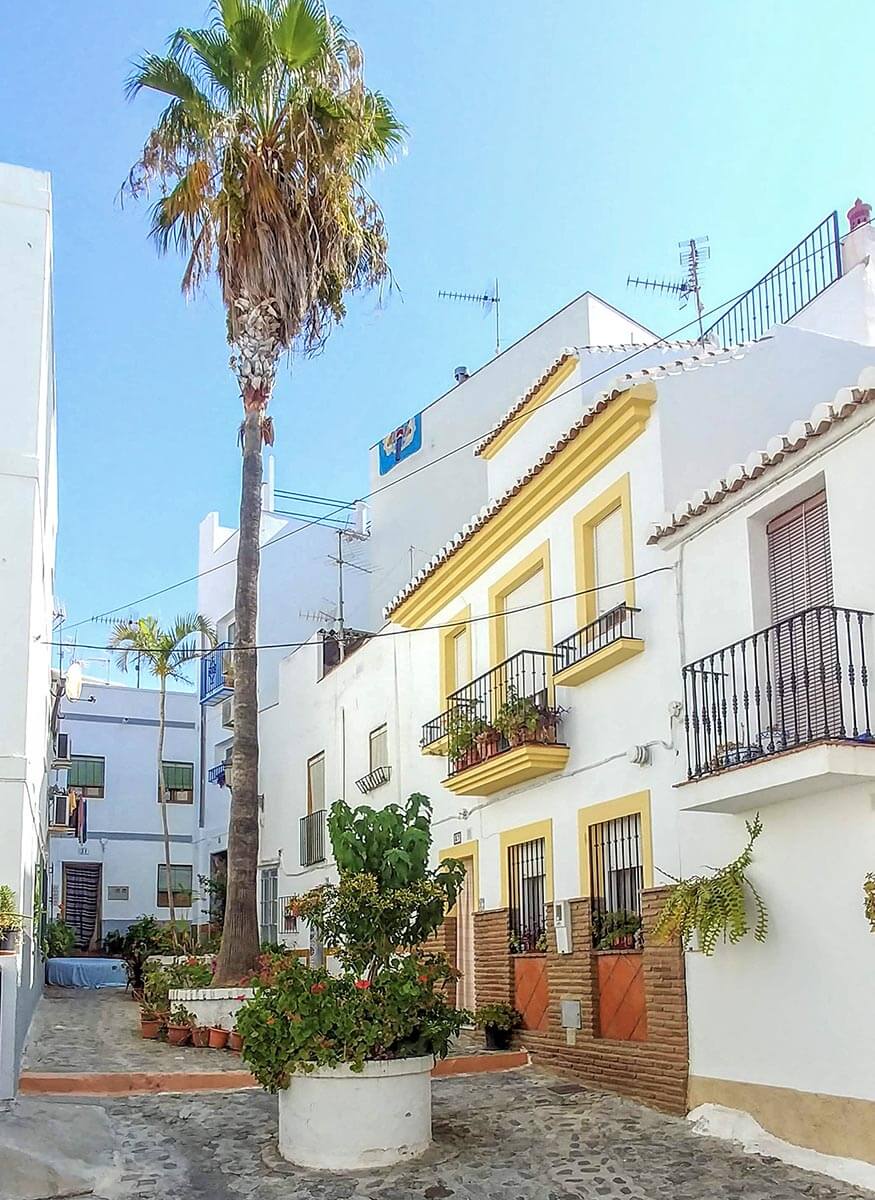 A stone's throw from the town hall square, all the shops and 300 meters from the beaches, you will not need a motorized vehicle ; everything is within walking distance. You are right in the heart of the old town on a small street with no car traffic.
1 mini-supermarket at 40m, 1 other at 70m...and all the other food shops not much further, you won't miss anything for your daily purchases. The cost of living there is cheap, even in the smallest shops.
The city is full of bars and restaurants, all authentic and mostly good prices. You'll want to spend hours at bars terrace eating tapas served free with your drink... and you'll taste the Andalusian way of life.
WHAT'S INCLUDED
All participants/tenants have access to the entire accommodation (except named rooms).
Each participant/tenant will have a key to the accommodation for which he will be solely responsible.


Water, electricity, heating if necessary, are included.
Bed linen, bathroom linen, beach towels, kitchen linen, soap, shampoo, detergent, household products, sponges are included.


A welcome food pack is included: coffee, pasta, eggs, olive oil, vinegar, salt, pepper, sugar

End of stay cleaning is included. We just ask you not to leave dirty dishes or any waste-dirt in the accommodation.
WHAT IS NOT INCLUDED
Meals, breakfasts, drinks are not included.Andalusian life, and even more so on the Costa Tropical, is amazing in that it is almost possible to eat/drink on the terrace every day, all year round and at rather low prices. Why deprive yourself of it?

On the beachfront, a coffee with milk and a toast will cost you no more than €3 on the terrace, a freshly squeezed orange juice, €2. Meals, a dozen euros in the most popular bar-restaurants, drink included.

But the accommodation will allow you to cookin an even more economical way and in a friendly atmosphere between participants. You will have to manage / empty / sort your waste so that at the end of the stay there is no more scattered in the accommodation.
INTERNAL rules
No animals
Smoking accepted outside (patio or terrace) if other participants/tenants OK, inside house strictly non-smoking.
Sets of house and room keys are to be returned at the end of the stay.
The objects or games made available must be put back in place at the end of the stay; if any damage has been done during the stay, please keep us informed to plan its replacement.
Gather the bins at the end of the stay, we will take care of evacuating them.
The goods, equipment and utensils of the house remain the property of Vuelta a Costa Tropical. Please leave them there and take care of them so that subsequent participants/renters can enjoy them as much.
Be careful when using the terrace: do not lean over the railing, do not climb, do not throw anything that could injure a participant, a neighbor or a passer-by. Beware of splashing water (shower), fat (plancha) which could inconvenience a neighbor or passer-by.
City life requires a minimum of good manners and respect for the neighborhood. In Spain, noise is well tolerated up to a certain limit.
For this reason parties are prohibited in the house. For this there is the beach or many bars / night clubs in Almuñécar to have noisy parties without disturbing anyone. Thank you for your understanding.
For good ventilation / coolness of the accommodation, do not hesitate to open the windows widely in the morning as well as the patio.
In the afternoon, close the windows exposed to the sun as well as the rolling shutters when you are not there. Notify us immediately (tel, Whatsapp or Facebook messaging) of any damage or incident.
HOTEL HELIOS COSTA TROPICAL:
A DELUXE STAY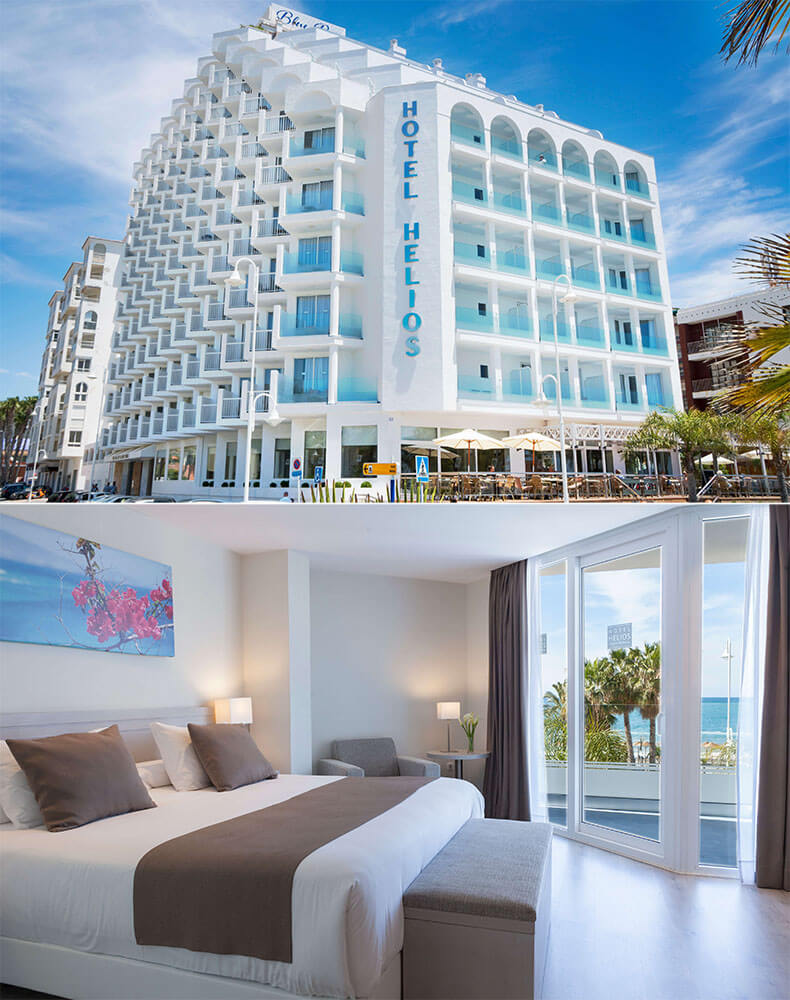 Hotel Helios Costa Tropical, 3 stars, totally cycling-friendly located on the seafront in Almuñécar. Secure bike room (possibility of mounting the bike in the room despite everything), tools, cleaning room, swimming pool, spa, non-stop buffet, rooftop bar... Enjoy a luxurious bike stay at an unbeatable price
Twin rooms (or single rooms in option) very comfortable, air-conditioned, sea view possible, and balcony-terrace.
TV, WiFi, fridge
Full board at the hotel buffet. Possibility of half board. Specific cyclist menus possible, allergen-free menus…
Contact us for a tailor-made quote for your hotel stay